Tips from experts in Singapore to choose the right metal railings
Railings are installed in structures for safety, especially for children. It can be installed alongside the stairway or edge of an elevated surface of the deck. But besides being functional, these components also complement the design of the property. The railing system will be the most visible component of the deck and will leave a good impression in the minds of visitors. As it has multiple purposes, it is important to choose the right material for the railings. You need to be thoughtful while selecting the material for the railings.
If you choose to install metal railings, then many types of metals can be used for the purpose. So, you should have a word with expert architects and designers to get an understanding. It is of utmost importance to choose a metal that offers both performance and aesthetic benefits. Here are some tips from metal fabrication experts in Singapore that will help you in the decision making process.
Brooklynz Stainless Steel Pte, follows sucessful technical pratices to deliver customized stainless steel products for construction projects. We adapt safety standards and take pride in our credibility with our achievement of BizSAFE star. We specialize in fabrication, supply and installation services for stainless steel railings, gates , bollards and more.
Experts in Singapore will help you make the right choice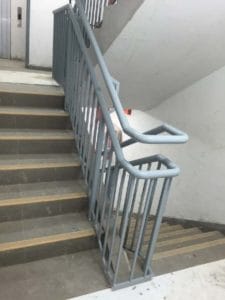 When it comes to railings, one of the most important aspects is its height. Especially, this applies to deck railings. Your architect will know the local building codes and will finalize the railing height. Usually, it will range from 36 inches to 42 inches. It is better to stick to this suggested range to get the best results as shorter railings will be unsafe, and higher ones might mar your view.
Apart from height, your architect will help you choose the best metal railings by giving you an insight into the various metals used for the purpose, the desired color and style as well. The professional will ensure that the best-suited material is used for the railings without compromising on appearance and functionality. Also, with proper guidance, you will be able to install the railings that are built to last for long with no or minimal maintenance. These components are available in a range of styles and colors, and an expert will help choose the right type that blends with the interiors offering a unified and seamless design.
Also Read: Guidelines of metal railings given by fabricators in Singapore
Where you install, it matters the most to architects in Singapore
When it comes to choosing the right type of metal, you can do it by knowing your requirements well. You should know where you want to install the railings – indoors or outdoors. If you aren't aware, this plays a significant role in the material selection process. When it comes to indoors, there is no need to be worried about the weather resistance of the material. But for the outdoor railings, you need to be concerned on many factors such as
Resistance
Maintenance
Durability
Appearance
Well, railings made using metal are easy to maintenance. Whatever type of railing is installed, the maintenance will be a point of concern for most people. In such cases, metal is preferred as it doesn't heavy maintenance. Of the various materials used to make these railings, stainless steel is the one that requires minimal maintenance. It need not be cleaned frequently, and the cleaning process is easy and quick as well.
Ask experts in Singapore for better suggestions
There is a wide range of options when it comes to metal railings in Singapore. While each material has its own characteristics, some of these cannot be negotiated for safety reasons and building codes that prevail in your city. As you might not be aware of these codes, it is always recommended that you discuss with the industry experts such as licensed contractors, certified architects, etc. in Singapore before you make a final decision regarding the railings that you will install. You have to tell them your requirement and how much you can afford, and they will help you decide the best-suited railings.
Also Read: Find Out The Advantages Of Industrial Skids!
Notably, experts will help you buy the best railings that are permitted under your local building codes. These codes will vary based on where you live. In some places, these codes can be too restrictive. But understand that these codes are meant for your safety. Only an expert in the industry will know about the relevant codes and will guide you in buying railings that will adhere to your local building codes ensuring your safety and the protection of your home.