Uncovering The Plethora Of Uses Of Spiral Staircases
You don't need a Sherlock's eyes to see the many ways a spiral staircase is utilised in Singapore. From recreational area to commercial buildings, from inside homes to decks, spiral stairs are put to use almost everywhere on the island. Through this article, we hope to give you a more comprehensive view of the applications of spiral staircases. Since there are too many ways to use spiral stairs, we have limited the scope of the writeup to just four.
Brooklynz Stainless Steel Pte, follows sucessful technical pratices to deliver customized stainless steel products for construction projects. We adapt safety standards and take pride in our credibility with our achievement of BizSAFE star. We specialize in fabrication, supply and installation services for stainless steel railings, gates , bollards and more.
Spiral Staircases For Outdoors

When a staircase is installed outdoors, without a fault, it has to be maintenance-free. There are two materials used for exterior stairs – galvanised steel and aluminium. Both of them have a finish that requires nil maintenance. Plus, they last a very long time. The aluminium spiral staircases in Singapore are incredibly lightweight, which makes installation easy. Plus, they can be customised to any colour which makes them ideal for chic decks. The galvanised spiral staircases are a more cost-effective option.
Where Are Outdoor Spiral Staircases In Singapore Most Used?
Any outdoor or exterior location that requires stairs can utilise spiral staircase. Most often, you will find them in:
Boats
Decks
Barns
Ziplines
Beaches
Treehouses
Roof Stairs
Fire Escapes
Spiral Staircases For Indoors
Finding the right indoor spiral stair is not a hard task because they are available in a variety of design and material. They are the perfect solution when form and function need to be balanced, and space is a big constraint. The two most common types of indoor staircases are forged iron and stainless steel. Forged iron staircases are best suited for homes that have a Victorian décor. They are highly decorative with an old-world charm. Steel spiral staircases are the most affordable choice and have immaculate lines that fit almost all interior designs.
Also Read: Answering Three Frequently Asked Questions On Spiral Staircase
Answering Three Frequently Asked Questions On Spiral Staircase
Where Are Indoor Spiral Staircases Most Used?
From multi-family units to high-rise buildings, from tiny houses to compact spaces, indoor spiral staircases make a great addition to any space. In Singapore, you'll frequently see them in:
Lofts
Attics
Cabins
Garages
Balconies
Basements
Mezzanines
Residential Areas
Spiral Staircases For Commercial Spaces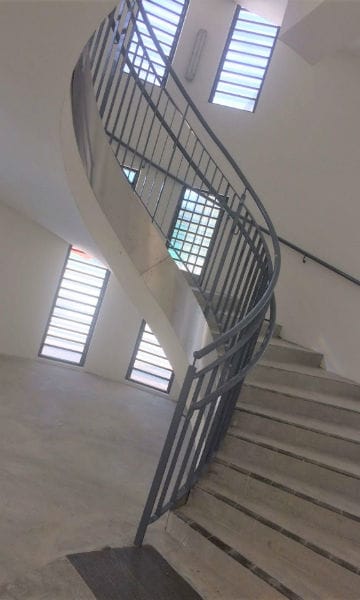 Brooklynz has been providing spiral staircases in Singapore to several industries and commercial spaces. These stairs are applicable for both inside the commercial project and outdoors. Because commercial spaces have particular requirements, manufacturing spiral stairs for them requires customisation. Brooklynz has in-house experts who design, make and install premium staircases that fit your needs, budget and timeline.
Additionally, commercial stairs need to be code compliant and durable. We ensure that our products exceed expectations on both fronts.
Where Are Commercial Spiral Staircases Most Used?
Any commercial building, area or space can employ spiral staircases. From malls to theatres, they can be applied virtually everywhere. A few places you would have seen them are:
Zoos
Stages
Ziplines
Restaurants
Fire escapes
Roof Access Stairs
Spiral Staircases For Recreational Spaces
A recreational space, by its very definition, means a place to have fun, and when people are enjoying themselves, they are not worried about safety. It is why it's crucial for spiral staircases in recreational areas to be absolutely secure. They have to be sturdy and durable to withstand even the roughest of usage, which means they require additional protection features. More than being strong, they must have great finishes so that they don't stand out like sore thumbs.
Where Are Recreational Spiral Staircases Most Used?
A winding staircase can add a bit of fun to almost any space. It is why you'll find them at the most obvious and the most obscure areas such as:
Boats
Beach house
Isolated cabins
Treehouses
Zipline courses
It is more than clear that spiral staircases can be employed anywhere in Singapore. From a private home with more than one level to a mall building, from an industrial plant to a park, spiral stairs can fit any space. If you are still unsure if a spiral staircase will suit your requirements, we recommend getting in touch with our experts. They'll assist you in not only selecting the right spiral staircase for your needs but also help in finding your dream design!
HAVE A PROJECT?
We offer you professional fencing services using best-in-class quality materials like steel, iron, and aluminum. Our services are spread all over Singapore and beyond. Call us or send us a quick mail to get started.
[contact-form-7 id="3138" title="Lead Gen Form"]